Be Aware!
Parking is available along the road for the entire two miles with limited handicap parking, and spots fill up quick.
A few miles further down beach road you will find Joseph Sylvia State Beach, or simply State Beach. This beach is a two mile long barrier beach that runs alongside Beach Road, and protects Sengekontacket pond. This beach is in both Oak Bluffs and Edgartown, while the Edgartown side is called Bend in the Road Beach.
Short sandy pathways lead down to this shallow, approachable beach. There is one universal access ramp on the Oak Bluffs side of the beach.
The water is generally calm, and there is access to Sengekontacket Pond, a great place for stand up paddle boarding, kayaking, and small craft boating. There is often a strong current near the bridges as the tide moves in and out of the pond, so if you are enjoying the beach with your family, keep an eye out for fast moving water.
The Famous Jaws Bridge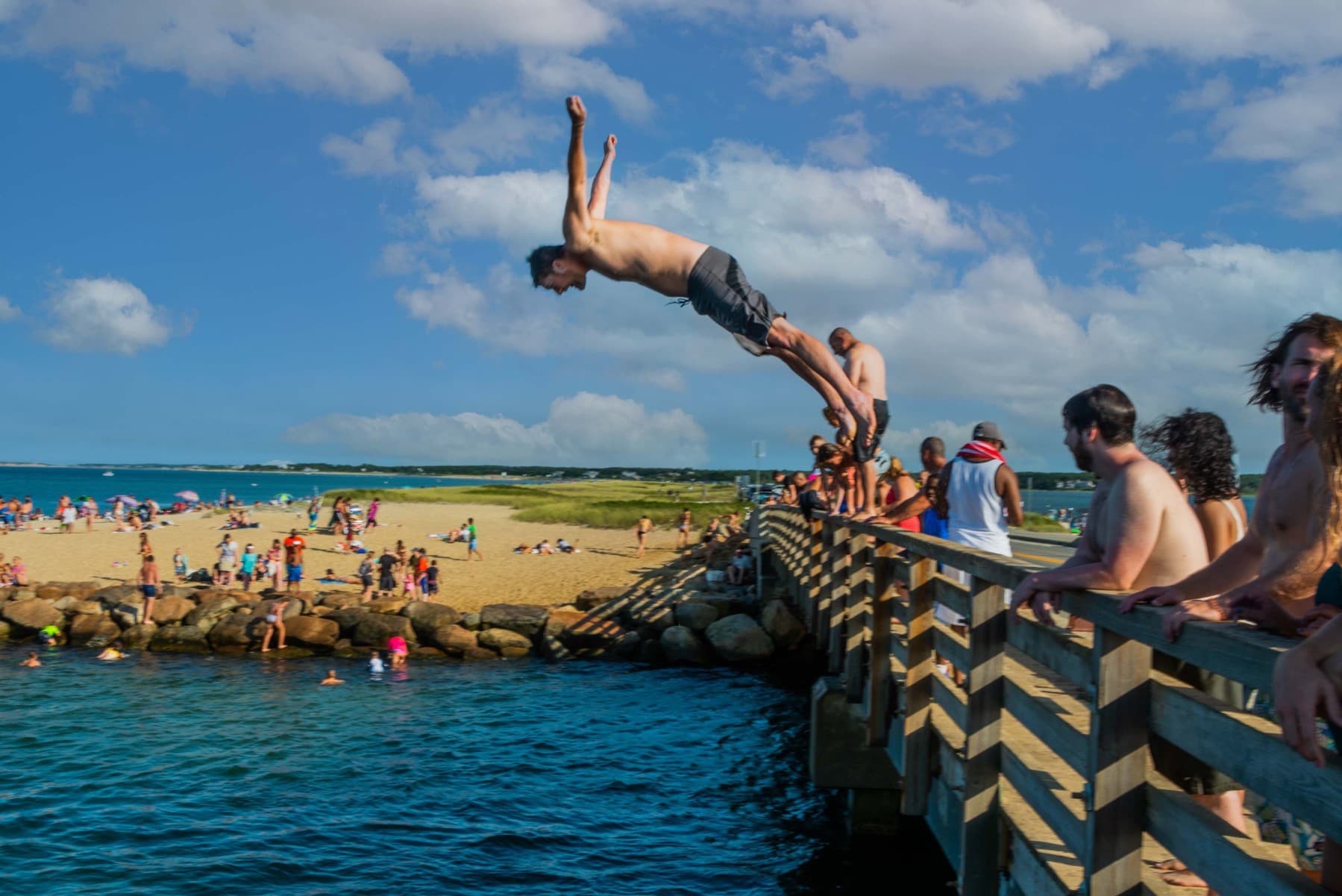 The Bridge that separates the Oak Bluffs and Edgartown sides of this beach is known to many as "Jaws Bridge," after its memorable moment in the 1975 classic film "Jaws." Though there are signs that warn you not to, many people take the plunge and jump from the bridge into the fast moving water flowing in or out of Sengekontacket Pond. It's a rite of passage for many and an exciting time for all that take the plunge.
State Beach is also a popular area for all kinds of outdoor recreation, from fishing and waterskiing to kitesurfing. On windy days it is common to see a dozen or more people catching big air kitesurfing both in the pond and the ocean. Note there are no facilities available at State Beach with the exception of watercraft rentals at nearby Sengekontacket Pond so plan accordingly for a packed lunch and strategic bathroom breaks.