West Tisbury is centrally located in the middle of Martha's Vineyard and offers a more agrarian landscape than the down-island towns of Vineyard Haven, Oak Bluffs, and Edgartown. Many homes are built on larger lots, and businesses are a bit more spread out in this rural town. Driving through West Tisbury is where most visitors start to be in awe of the vast open space and bucolic landscapes prevalent on the island–it's not all beaches and ice cream shops!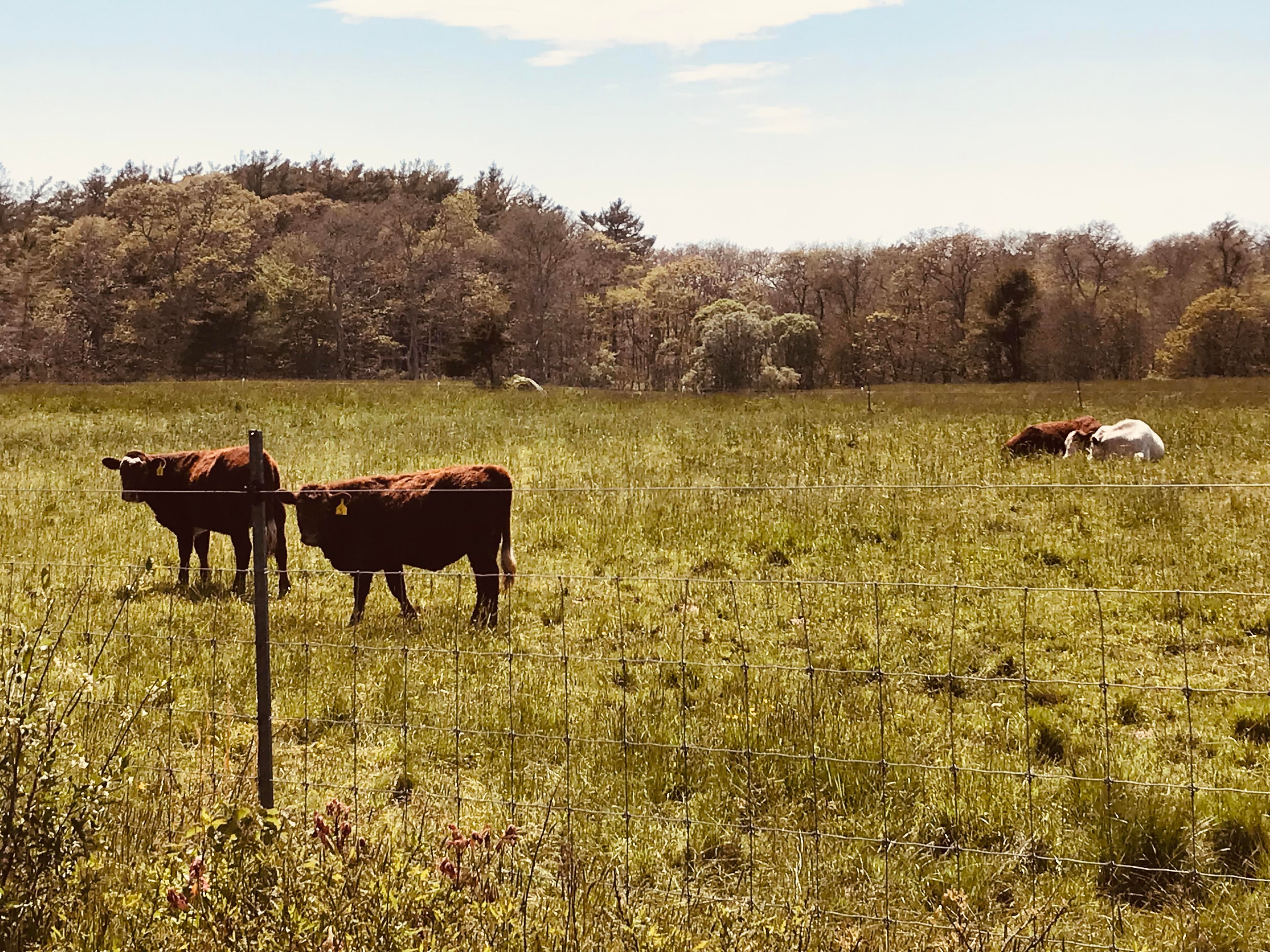 West Tisbury was first incorporated in 1892, though the first English settlers in this area can be recorded back to 1669. Historically this was an agricultural hub for the island, and the agricultural scene is still very much alive here. Today West Tisbury has a year-round population of approximately 3,500 residents, and offers a range of shopping, beaches, farms, restaurants, and activities.
Where to Stay in West Tisbury
West Tisbury does not have the same concentration of hotels that some of the down-island towns do, however there are still some great options for lodging in West Tisbury. Lambert's Cove Inn offers a beautiful getaway, tucked away off of Lambert's Cove Road, one of the island's most picturesque streets, and a popular route for avid cyclists.
Lambert's Cove Inn is walking distance from the coveted freshwater swimming hole, Icehouse Pond, and just over a mile away from Lambert's Cove Beach, one of the most beautiful beaches around. The inn offers regular shuttle service to the shore, as well as a full-service restaurant, making this property sure to impress.
There are also many homes and guest houses available to rent through local real estate agencies, AirBnB, Vrbo, and more. West Tisbury is a great location to spend a vacation, close to the bustle of the down-island towns while giving you a feeling of being in the middle of nowhere.
Shopping in West Tisbury
West Tisbury offers a lot when it comes to shopping, from groceries to fine art.
Groceries, Farms, and Local Produce
Cronig's Market, a full service grocery store with a deli, has their up-island location on State Road in West Tisbury. There are also multiple quaint roadside farm stands and markets including Blackwater Farm, Whippoorwill Farm, Ghost Island Farm, and North Tisbury Farm, which are ideal places to supplement the grocery store with local produce, meat, and eggs, and specialty items.
The West Tisbury Farmer's Market
West Tisbury is also home to the popular West Tisbury Farmers Market, hosted at the Agricultural Hall on Wednesdays and Saturdays from mid-June through October. This farmers market was originally founded in 1934, and has been continuously operating since 1974. This robust market offers locally raised produce, meat, flowers, fresh seafood, and more. With locally produced sea salt, cheeses, pastries, pizzas, fried chicken, coffee, and dozens of other locally made offerings, this farmers market has something for everyone.
Local Tip!
Plan your West Tisbury trip for a Wednesday or Saturday so you can stop by the open-air Farmers Market.
Hardware and Supplies
If you need to accomplish a project while you are on the island, E.C. Cottle is a full-service building supply and hardware store located on Lambert's Cove Road, where you can get everything from windows and doors to gloves and adhesives.
Alley's General Store
Don't miss the chance to pop into Alley's General Store, a historic business started in 1858, now owned and operated by the Vineyard Preservation Trust. Alley's is home to an eclectic mix of items including groceries, toys, coffee, and housewares, and even has its own set of Post Office boxes still used today.
Plants and Nurseries
Looking for something green? Middletown Nursery, Vineyard Gardens, and Heather Gardens are all local nurseries that are fantastic places for everything from house plants to a full landscaping job, as well as gifts and home goods.
West Tisbury is for Art Lovers
Field Gallery
If you are looking to browse or purchase local art, there are several options in West Tisbury. The Field Gallery is an outdoor sculpture garden that is also home to a small gallery building with rotating local artists' work on display and for sale.
Granary Gallery
The nearby Granary Gallery is home to some spectacular fine art pieces, featuring many local, and island-associated artists, this is a wonderful place to spend some time. A Gallery is a visionary pop-up art space that features rotating exhibits of various artists' work.
Martha's Vineyard Glassworks
Martha's Vineyard Glassworks, located on State Road, is home to several resident glass artists. This unique studio/showroom offers the opportunity to see some incredible glass artwork, as well as interact with, and watch glass artists at work.
Chilmark Pottery
Chilmark Pottery, also located on State Road, is home to a huge collection of locally produced pottery. Owner Geoffrey Borr is often throwing pieces in the space, and is happy to answer questions about the large selection of ceramic goods.
Tending Joy
For a dose of inspiration check out Tending Joy on State Road, a beautiful shop curated by poet and artist Ingrid Goff-Maidoff featuring a delightful collection of colorful crafts from local artisans, and from artisans around the globe.
Enjoy Free Fun at the West Tisbury Library
Libraries aren't always at the top of people's lists, but the West Tisbury Library has a lot to offer. If you have a library card, and you can sign up for one on the spot) this library offers much more than books. You can borrow everything from digital books on tape, to sewing machines, and instruments. This library also offers a wide variety of programming, from seminars to live music as well as countless family-friendly and children's programs. Don't just save it for a rainy day!
Where to Eat? Dining in West Tisbury
West Tisbury is home to only a few restaurants but the town offers some seriously stand-out food.
Alley's General Store and 7a
For excellent breakfast and lunch sandwiches head over to 7a Foods. Located next to Alley's General Store this unassuming little shop makes exceptional food, using high-quality and locally sourced ingredients. Everything from the breakfast sausage to the pastrami is made in-house. Don't miss their popular Liz Lemon sandwich, named after the 30 Rock character played by Tina Fey, and its recipe is Liz' favorite dream sandwich including pastrami, turkey, swiss, cole slaw, Russian dressing, and potato chips on rye.
State Road Restaurant
If you want to treat yourself to a memorable fine dining experience, check out State Road restaurant. This contemporary American restaurant's grounds cultivate herbs, greens, and other ingredients used throughout their creative menu. With a focus on locally sourced ingredients, high-end service, and flawless execution, this restaurant has become a favorite among many locals, and even former presidents.
Food at the Farmer's Market
If you plan on visiting the West Tisbury Farmers Market, there are a number of excellent prepared food options on Wednesdays and Saturdays. Stoney Hill Pizza is a mobile pizza oven that offers beautiful handmade neapolitan style pizzas, and impressive sweet and savory pastries.
Komorad Fried Chicken is the brainchild of Chicken Farmer Jefferson Munroe, the farmer/butcher at The Good Farm. This food truck offers excellent fried chicken and sandwiches.
Chilmark Coffee Roasters offers locally roasted free trade organic beans as well as their legendary cold brew and other coffee beverages. With other vendors offering spring rolls, bread, sandwiches, pastries, Kombucha, and even hand-made chocolates, this farmers market is not just about the veggies.
Where to Get Alcohol and Cannabis in West Tisbury
Although you can purchase beer and wine at State Road Restaurant with your meal, there is no other alcohol available for sale at any stores in West Tisbury. You can venture just across the town line to MV Wine and Spirits at the Airport Business Park. You can also order beer, wine, liquor, and other items from several island package stores for delivery to your home or rental. Be prepared for a delivery fee on small orders, and be sure to get your order in early for same-day delivery.
The State of Massachusetts allows both medical and adult-use consumption of cannabis and cannabis products. Because the Island is separated from the rest of the state by the Atlantic Ocean, it is unlawful to carry cannabis between the mainland and the Island through this federal waterway. However, West Tisbury is home to Fine Fettle, a medical and adult-use cannabis dispensary. All of their products are grown, tested, and produced on-island.
The Beaches of West Tisbury
Lambert's Cove Beach
If you make it to just one beach on Martha's Vineyard, consider the legendary Lambert's Cove Beach in West Tisbury. This coveted North Shore beach with crystal blue water, soft white sand, and famously calm water.
It is a town beach which means that it requires a beach pass during the season, both walk-on and parking passes are available for purchase for town residents. However the public and our four-legged friends are all welcome on Lambert's Cove Beach before 10 am. If you bring your pup there is a large section of beach that is designated for well behaved off-leash dogs and it will likely be the highlight of your dog's vacation.
Local Tip!
Up-island beaches like those in West Tisbury are great for walks with your pet.
Long Point Wildlife Refuge Beach
Another gem in West Tisbury is Long Point Wildlife Refuge Beach, a vast secluded beach and nature preserve on the South Shore of the island. This property is managed by the Trustees, and is subject to their regulations. At some points in peak season reservations have been required, and the parking lot can reach capacity quite early.
If you do make it to Long Point, take a lovely walk from the parking lot, past a series of duck blinds, and Tisbury Great Pond to this quiet beach. You can also stroll down to the breach in the beach where the saltwater flows into the brackish pond, this area is known as Tisbury Great Pond Beach. With access to both the warm protected pond, and the ocean, there is plenty of opportunity for the whole family to enjoy.
Hiking in West Tisbury
The Manuel F. Correllus State Forest
West Tisbury has a number of excellent trails to walk, hike, or bike. The massive Manuel F. Correllus State Forest is comprised of over 5,300 acres, part of which sits in West Tisbury. There's an extensive network of paved bike/walking paths that travel throughout the island. Check the TrailsMV app for a full list of properties operated by Sheriff's Meadow, The Land Bank, and The Trustees.
Walking Trails
Hikes in West Tisbury offer everything from long snaking trails past Seth's Pond into former farmland and oak forest. Sandy beach hikes along Tisbury Great Pond at Long Point, and even wooded walks to the rocky shoreline at Cedar Tree Neck. New properties are added from time to time, so it is always worth checking the app if you have not been to the island for a while.
For an easy stroll through well-kept lush gardens head to Polly Hill Arboretum. This adored property is constantly expanding its exhibits and offers programming for the whole family.
Getting Around West Tisbury
If you are driving in West Tisbury there are only a few roads that you need to know to get to most places. State Road is the main artery between Vineyard Haven and the up-island towns of Chilmark and Aquinnah. Edgartown West Tisbury Road, as it suggests, connects West Tisbury and Edgartown. Old County Road bisects State Road, and cuts a triangle between the two roads.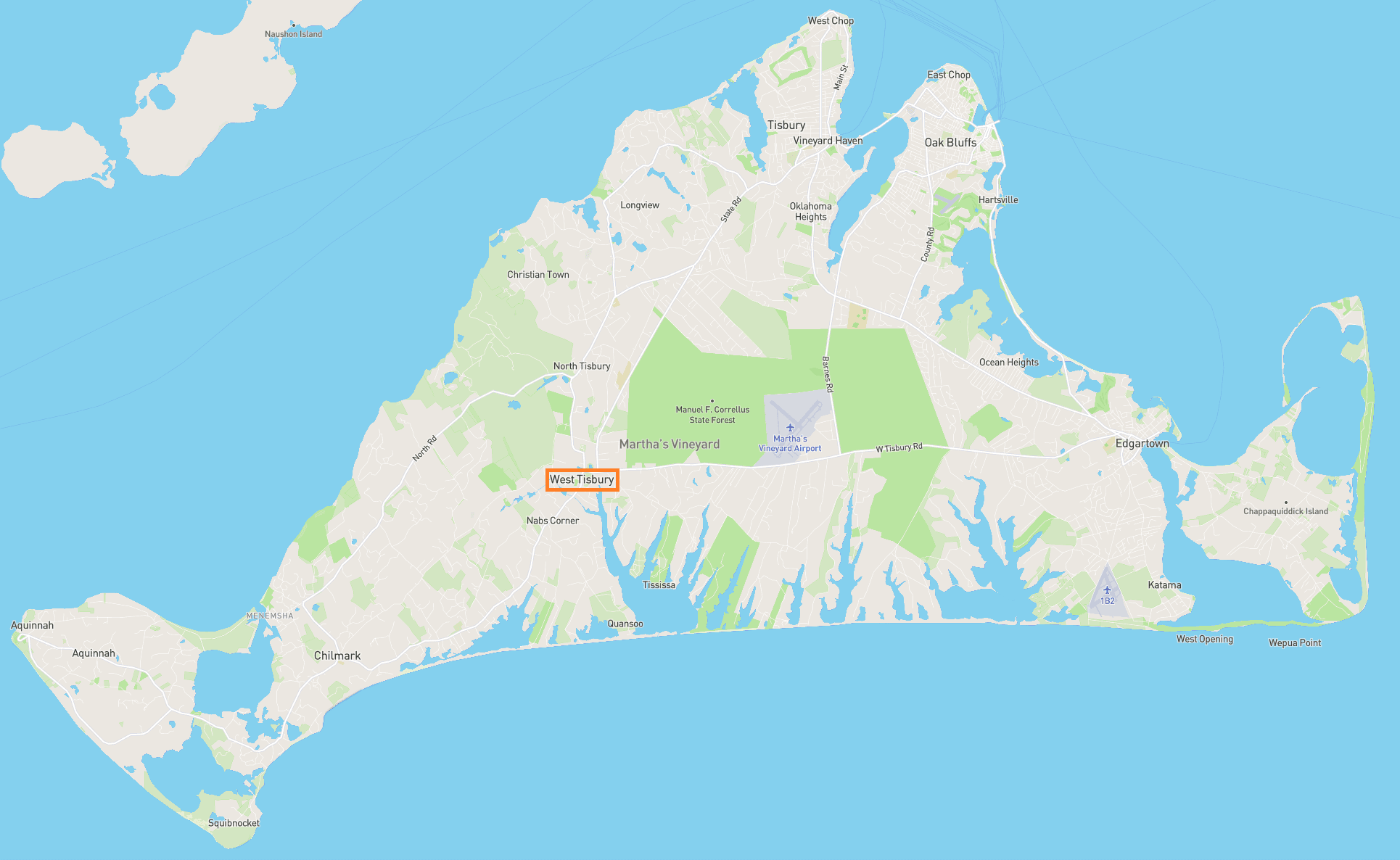 As you enter Chilmark you may split off of State Road onto North Road, Middle Road, or continue on to South Road, and their orientation is just as you'd imagine. Vineyard Transit Authority buses run regularly through the main roads in West Tisbury and are a convenient way to get around if you do not have a car.
Be Aware!
Navigation apps and GPS are fairly reliable here, but beware of any directions that include Dr. Fisher Road between Old County Road and State Road, as you may find yourself stuck.
Arriving to West Tisbury
By Plane
West Tisbury is accessible for air travelers as it's home to the Martha's Vineyard Regional airport (MVY), the only airport on Martha's Vineyard. Traveling by plane is the fastest way to get to Martha's Vineyard and the views once you approach are simply majestic.
Given the seasonality of the island more flights are offered in the summer months, but depending on where you're arriving from there are daily year-round flights available. Cape Air offers daily, year-round flights from Boston and other major cities, plus additional seasonal service from New Bedford, Hyannis, and Nantucket in Massachusetts, as well as New York locations. Major airlines including JetBlue, Delta, and American Airlines, offering seasonal service. Another option for flying into the Vineyard year-round are private air charters.
The MVY airport is not located within walking distance to Martha's Vineyard attractions, though there is a restaurant, seafood market, and liquor store nearby, but outside of those offerings, you'll want to arrange for a car pick up or the bus to bring you to your ultimate destination.
By Ferry
Traveling by ferry is what most visitors to the island decide as their mode of transportation, and ferries arrive into Vineyard Haven year-round, as well as Oak Bluffs and Edgartown seasonally.
Please note if you are arriving via ferry and plan to stay in West Tisbury that you will need to arrange for a car pickup or the bus to bring you to your ultimate destination.
For passengers considering bringing their car on the island, note that the only car ferry is the Steamship Authority vessels departing from Woods Hole, MA. These are the only ferries that are capable of bringing your car to Martha's Vineyard, so when booking ferries, be mindful of this. For a full list of ferry options to Martha's Vineyard click here.